---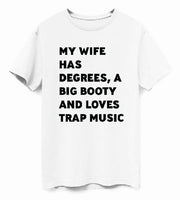 If your wife has multiple degrees, a big booty, and loves trap music, this shirt is for you!
We have upgraded to luxury fabric and printing.  Get it while it lasts!

Our shirts are 6 oz. SUPIMA® cotton and the world's finest t-shirt, period. Made of ELS (Extra Long Staple) American Grown SUPIMA® Cotton grown in California under strict, quality controlled guidelines, the hand and feel of this shirt is extraordinary. It is smooth and soft to the touch. They are incomparable in just about every way possible.